Bhutan's scenic beauty and landscapes, rich flora and fauna, and unspoiled trails offer a truly wonderful treat for those who love adventure and nature. Trekkers can chose from a range of short excursions to more challenging adventures such as the legendary 24-day Snowman Trek. The Snowman Trek is also labeled the world's toughest trek as it goes over 12 mountain passes, all of them over 4,500m..
Map of Some Popular Routes (also available in PDF format)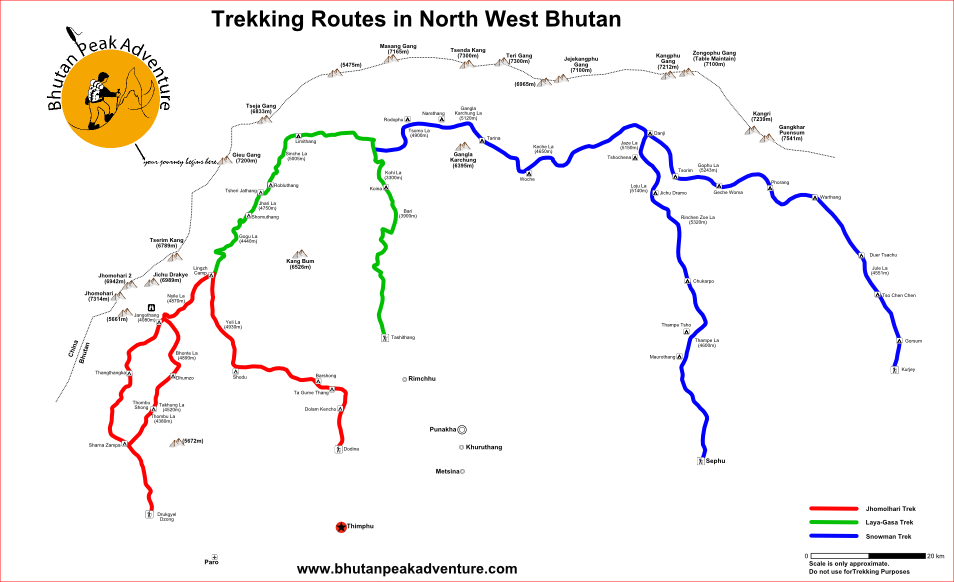 Almost all the treks offer a combination of natural discovery and an insight into the country's delicate and unique daily life. Many of the trails take walkers past remote and ancient monasteries, through deep forests, and close villages. Trekkers often get to spot blue sheep, Takin and a variety of birdlife including wild pheasants. Bhutan's treks are also famous for the majestic views of the Himalayan peaks that provide a sense of fear and wonder and a point of contemplation for trekkers along the way.
Trekking requires plenty of planning so all bookings must be done at least 8 weeks in advance. The ideal months for trekking in Bhutan are March, April, May, September, October and November.