Overview
Making arrangements for a trip to Bhutan is a little different from traveling to other countries as the government does not allow for independent (self-guided) travel. In order to get a visa to Bhutan, your trip must be prepaid using a Bhutanese-licensed travel agency. The exact timing of your trip will often depend on the availability of flights. Visitors may travel singly or in groups of any size. The fee normally ranges between $200 and $250 per day per person for cultural activities.  For the days spent trekking, we usually have to charge higher because of the extra costs involved with the support crew.
Exceptions to this tariff are listed later in this section. Because of limited air flights, the farther in advance you make your plans the better. During festivals, lodging can also be scarce.
Step 1:
Read through the itineraries on our web site. Email us with a preferred trip (please tell us if you are interested in visiting monasteries, seeing nature through day treks, etc). Also, let us know a time-frame in which you would like to travel, your level of fitness if you are interested in hiking, and which city you will be arriving from (Bangkok, Calcutta, Delhi or Kathmandu). It is also possible to enter Bhutan by land from India in the southwest (see Traveling by Land). We will respond with a suggested itinerary, the dates flights available, and the cost of the trip.
Step 2:
When you have selected a final itinerary and travel dates, you will need to arrange for payment (see Payment Information tab) and send us the information to apply for the visa.
Step 3:
Bhutan Peak Adventure will arrange for the visas and Druk Air tickets and we will forward them by e-mail.
Tariff
Daily Tariff
The daily tariff to visit Bhutan is set by the Royal Government of Bhutan.
Bhutan's minimum package tour cost per person will be USD 250 per day for the months of March, April, May, September, October and November. However, to encourage more people to visit during the months of June, July, August, December, January and February the minimum package tour cost per person remains at USD 200 per day. With the increase in the package cost the tour operators are mandated to keep their guests in accommodation facilities that have been rated as 3 stars and above.
The minimum price includes:
    All internal taxes and charges
    Accommodation
    All Meals (except for beverages)
    All travel with a licensed Bhutanese Tour Guide
    All Internal Transport
    Camping Equipment and Haulage for Trekking Tours
The rates given above are applicable per tourist per night in Bhutan. On the day of departure, the "local agents" host obligation shall be limited to breakfast only and any extra requirements shall be payable on actual basis.
The rates shall apply uniformly irrespective of locations and the type of accommodation provided/asked for. List of hotels and lodges approved for international tourist accommodation.
Surcharges
Individual tourists and smaller groups of less than three persons shall be subject to surcharge, over and above the minimum daily rates applicable, as follows:
    Single individual US$ 40 per night
    Group of 2 persons US$ 30 per person per night
The surcharge will not be applicable to representatives of foreign travel agents on business study or promotional visit duly approved and cleared by DOT.
There shall be no charge for CHILDREN up to the age of 5 years. However, those between the ages of 6-12 years accompanied by elders/ guardians shall be given 50% discount on daily rates.
Full time STUDENTS below the age of 25 years holding valid identity cards from their academic institutions shall also be given a 25% discount on daily rates.
A discount of 50% on daily rates shall be given to one person if a group of 11 to 15 people. 100% discount shall be given to one member in a group exceeding 26 persons.
Detailed information on Druk Air flights, tour and trekking programmes, festivals, places of interest, hotels, etc. can be obtained from the tour operators.
Payment
Tour Payment
The tour must be fully paid for in order for the visa to be processed.  The government will not issue any visa until that time.  You should plan to arrange for payment to reach us about 1 month before the tour date at the latest.
Drukair reservations can only be held for a few days without being issued.  Payment for the flight tickets can be sent in advance to guarantee a flight. This is particularly critical during the high season where seats are scarce.
Payment must be sent using wire transfer in US Dollars.  Details of the bank transfer (account number and SWIFT code) will be sent when you are ready to make the payment.  If you are unfamiliar with wire transfers, please visit your bank in person with the transfer details and they will be able to assist in making the payment.
Unfortunately the government is not yet allowing payment of tours by credit card and still require that payments be sent to us by wire transfer.  We hope that this will change in the future.
Visas
Visa Formalities
Passport holders from countries other than India and Bangladesh must have a visa to visit Bhutan.  Tourist visas are only granted after full payment for the tour has been received and deposited with the tourism board.  The application process for the visa is handled entirely by Bhutan Peak Adventure and there is no need to send your passport to any embassy.
The cost of the visa is $40USD and we will have already included this cost as part of the tour package.  We require the following items from you:
Scan of the front page of your passport (100-150dpi, color is preferred). You can send any format but it helps us if it is in JPG format.

Home Address and Telephone Number

Your occupation
Although visa processing time is listed to be officially 1 month, we usually receive the visa in less than 72 hours.  The visa arrives in the form of a PDF document which you will need to bring with you to the airport.
If you would like to extend your stay while in Bhutan, there is an additional $15USD processing fee in addition to the tour price.
Travel
Arriving by Air
The only international airport in Bhutan is Paro and the only airline operating is the national carrier Drukair.  Arriving at this airport will likely be one of the most exciting and memorable landings you will ever make.  With the winds blowing primarily from the south, the plane will be required to make a 180 degree turn in a very narrow valley.
Take-offs and landings are only possible during daylight hours and most flights are scheduled to arrive and leave during the morning due to the possibility of strong winds later in the day.
The Airbus 319s operated by Drukair have a spacious business class service which is often available at a reasonable upgrade cost.  You can even request the upgrade at the check-in counter (USD is accepted for this upgrade).
You may book the flight yourself at Drukair's website, or you can allow us.  Please note that although some dates appear to be completely sold on-line, there are times that agents within Bhutan are able to add your name to a waiting list which may clear within a day or two.  If your planned date is not available, please let us check directly with the airline.
Due to the unpredictable weather, flight delays can and do happen.  You should consider adding a significant amount of time (we suggest between 6 to 24 hours depending on the month) for onward connections.  Drukair does not have interlining agreements with other airlines so through-checking your bag will generally not be possible.
Druk Air Route Map
Please visit  Drukair's Website for schedule and pricing information.
[Click on map for larger image]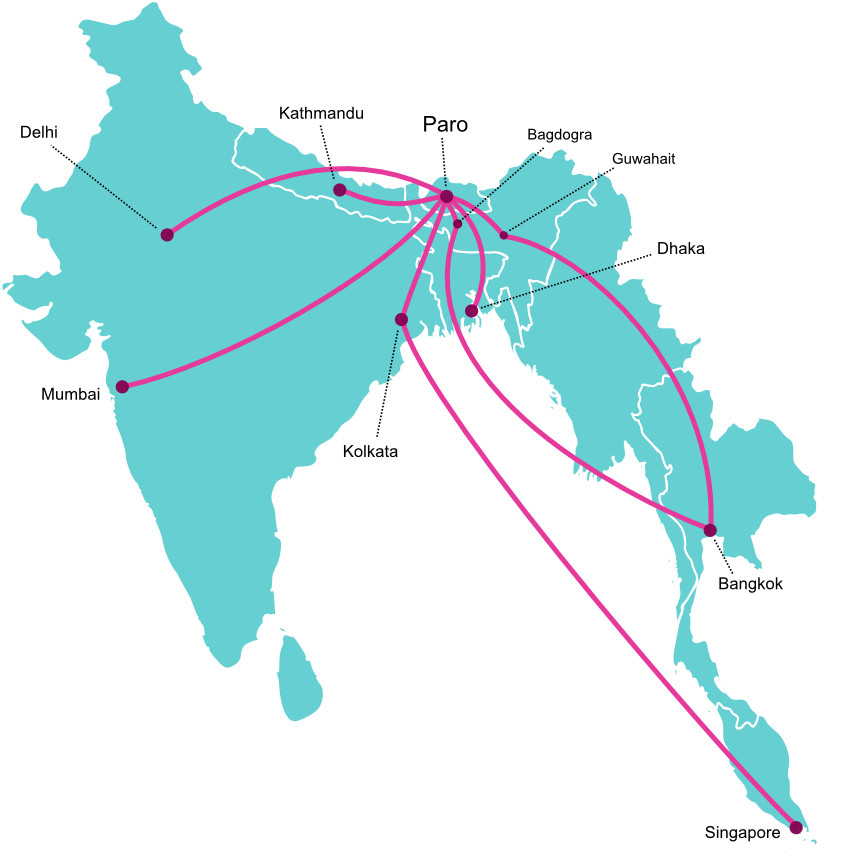 By Road
The nearest Indian airport is Bagdogra, which can be reached by plane from Kolkata and Delhi. The road from Bagdogra connects to Phuntsholing, a border town in Bhutan. It is a 3-4 hour drive from the airport. It takes approximately 6 hours from Phuntsholing to Thimphu or Paro.
Transit Points
Information on Transit Points
All travelers are responsible for ensuring that they have the correct visas for transiting each of the following countries.  One resource that we consult is Star Alliance Visa and Health.  Please be aware that visa requirements can change suddenly and you are advised to keep checking the requirements.
Bhutan Peak Adventure can arrange hotels, airport transfers, and tour packages for any transit point.
Bangkok, Thailand
Bangkok is a modern city and its location makes it an ideal transit point for passengers originating from Asian locations and from Western North America points.   Thailand is one of the of the most easily entered countries where citizens from most Western countries are given free 30 days entry on arrival, and most other countries are given visas on arrival at the airport with payment.  Travelers are responsible for ensuring that they are eligible and have the proper visas to enter Thailand.
The airport is new and clean and we have even personally spent the night at the airport in the check-in area because of the early departure to Paro often requiring a 5am check-in for Drukair (some flights leave Bangkok at 4:45am so they can reach Paro before 7am).
When going to Bhutan you will probably have to use a taxi to reach the airport because of the early departure time.  Usually we have to pay about 200-300 Baht from the city. When you are arriving from Bhutan, the flight lands at a time of the day where you can take the train…although if you are in a group with more than 2 people then the taxi is probably nearly the same price.
Kathmandu, Nepal
Kathmandu, the capital of Nepal, is a very bustling city and most people who have little travel experience may find it quite noisy, dirty and smelly.  The city is plagued with frequent power outages and the airport is extremely chaotic and disorganized. However, visitors looking for a sense of adventure will find Kathmandu quite interesting and they will be rewarded with a spectacular view of the Himalayan mountains on the way to Bhutan.
Most nationals can obtain a visa on arrival at the airport in Kathmandu. Be sure to carry exact change for the visa in a convertible currency such as US Dollars, UK Pounds, or Euros and a passport sized photo (no restriction on background color or size) for the visa application.  You can download the visa application form online and complete before hand to avoid having to do it there…(just staple the photo to the application form) if you look around you will probably find about 5 different visa application forms, none of which match the forms at the airport; they are all accepted regardless if you are staying for 60 days or using a 1 day transit.  If you do forget a passport sized photo, there is somebody there who will be happy to take a lot of money for their service.  If you do not carry USD or some other convertible currency then you will need to use the ATM in the immigration area to obtain Nepal Rupees then convert them into USD at the exchange counter offering some of the worst exchange rates in the country.
If you are only staying for a single night then ask for a transit visa which will cost $5US.  Make sure that you bring a copy of your onward ticket or else they will not allow the transit visa and will make you purchase the 15 day visa for $25.
Transiting via Kathmandu is a very good option for travelers originating from Eastern North America and Europe but you will have to transit via one of the Middle Eastern countries such as Bahrain, Qatar or UAE because no flights operate directly to Kathmandu from Europe.
We make two suggestions for those people transiting through Kathmandu. Arrive at the airport early for your flight (3 hours) and bring a copy of your ticket or else they will not let you in.  We have seen many people turned away because they had e-tickets but no printed copy (some of these people rambled off a random ticket number and the guard let them in).  If you are lucky then you will end up reaching the departure area and have a couple of hours to spare.  Sometimes the security and check-in (especially on any airlines to India) can be challenge and we have experienced more than 3 hours reaching the plane from the front door.   A second suggestion is that unless you have access to the lounge upstairs (business class on a carrier other than Thai Airlines) remember to bring a roll of toilet paper.  The toilets in KTM airport are some of the nastiest that we have seen; it is possible that you will end up with toilets without seats and the chances of having paper in the stall is pretty low.
Delhi, India
The city of Delhi will be similar in nature as Kathmandu but many nationals require a visa to be arranged in advance from their local Indian embassy.  There are many direct flights from Europe and even North America so this might be a reasonable option if the flight price is good.
If you are transiting via Delhi, then keep in mind that you could extend a couple of days on the transit to visit the Taj Mahal in Agra which is a day trip from Delhi.
Although we travel quite frequently, we do not usually use Delhi because of the visa costs compared to Kathmandu and Bangkok.  We do know that the airport is quite modern and should be clean but we really cannot provide any comments regarding this airport.  We do have many agents in Delhi who can arrange hotels, airport transfers, and any tours for passengers wanting to use Delhi as the transit point.
Singapore
Singapore is a very advanced city in South East Asia and is one of the newest airports served by Drukair (connection is done via Kolkata but you don't have to leave the plane so no visa is required).  The immigration policy of Singapore allows nationals of many non-Asian countries to enter without a visa and and nationals of Asian countries to apply for an electronic visa (online).  The only countries requiring a visa in advance are mostly in the Middle East and Northern Africa region.
The city is amazingly clean and even chewing gum is not permitted.  There is metro train service provided directly to the airport and the Singapore airport is one of the nicest airports in the world. The airport itself is worthy of many hours of exploring and contains attractions such as a butterfly garden, a swimming pool, even high quality full service hotels are available in the international transit area.