Electronics
Communications Facilities
Reliable telephone and fax services are available in all towns in Bhutan. International connections are excellent. Internet cafes are also available in main towns of the kingdom.
Time
Bhutan Standard Time (BST) is six hours ahead of GMT and there is only one zone throughout the country.
Electricity
Electricity in Bhutan is reasonably reliable and runs 220 Volts. An international converter kit with a set of adapter plugs may be required if travelers being along electrical appliances.
Power outlets in Bhutan can vary from hotel to hotel.  The primary standard is the same as the outlets in India (Type D) but some hotels may have European and North American sockets.  Unfortunately many universal adapter kits sold in the airports do not have the Type D plugs.  You may need to order something from an online source before leaving home.
Festival Dates
[table]
Festival,Place,Start,End
Takin Festival,"Damji, Gasa",21-Feb-14,23-Mar-14
Nomad Festival,"Nagsephel, Bumthang",22-Feb-14,24-Mar-14
Bhutan International Marathon,,22-Feb-14,22-Feb-14
Punakha Drubchen,"Punakha Dzong, Punakha",08-Mar-14,10-Mar-14
Punakha Tshechu,"Punakha Dzong, Punakha",11-Mar-14,13-Mar-14
Tharpaling Thongdrol,"Tharpaling Lhakhang, Chummi, Bumthang",16-Mar-14,16-Mar-14
Chhorten Kora,"Chorten Kora, Trashiyangtshe",16-Mar-14,16-Mar-14
Chhorten Kora,"Chorten Kora, Trashiyangtshe",30-Mar-14,30-Mar-14
Gomphukora,"Gom Kora Lhakhang, Trashigang",07-Apr-14,09-Apr-14
Talo Tshechu,"Talo Gonpa, Punakha",07-Apr-14,09-Apr-14
Gasa Tshechu,"Gasa Dzong, Gasa",07-Apr-14,10-Apr-14
Zhemgang Tshechu,"Zhemgang Dzong, Zhemgang",07-Apr-14,10-Apr-14
Paro Tshechu,"Rinpung Dzong, Paro",11-Apr-14,15-Apr-14
Rhododendron Festival,"Lamperi Botanical Garden, Dochula, Thimphu",18-Apr-14,20-Apr-14
Domkhar Tshechu,"Domkhar, Chummi, Bumthang",09-May-14,11-May-14
Ura Yakchoe,"Ura Lhakhang, Bumthang",10-May-14,14-May-14
Nimalung Tshechu,"Nimalung Dratshang, Chummi, Bumthang",05-Jun-14,07-Jun-14
Kurjey Tshechu,"Kurjey Lhakhang, Choekhor, Bumthang",07-Jun-14,07-Jun-14
Haa Summer Festival,"Town Festival Ground, Haa",05-Jul-14,07-Jul-14
Musutaki Mushroom Festival,"Ura, Bumthang",23-Aug-14,24-Aug-14
Tour of the Dragon (Bicycle Race),Bumthang to Thimphu,06-Sep-14,06-Sep-14
Thimphu Drubchen,"Tashi Chhodzong, Thimphu",28-Sep-14,02-Oct-14
Wangdue Tshechu,"Tencholing Army Ground, Wangduephodrang",01-Oct-14,03-Oct-14
Gangtey Tshechu,"Gangtey Gonpa, Phobjikha, Wangduephodrang",01-Oct-14,03-Oct-14
Tamshing Phala Chhoepa,"Tamshing Lhakhang, Choekhor, Bumthang",02-Oct-14,04-Oct-14
Thimphu Tshechu,"Tashi Chhodzong, Thimphu",03-Oct-14,05-Oct-14
Thangbi Mani,"Tangbi Lhakhang, Choekor, Bumthang",07-Oct-14,09-Oct-14
Chhukha Tshechu,"Chhukha Dzong, Chhukha",31-Oct-14,02-Nov-14
Jakar Tshechu,"Jaka Dzong, Choekhor, Bumthang",31-Oct-14,02-Nov-14
Pemagatshel Tshechu,"Pemagatshel Dzong, Pemagatshel",04-Nov-14,06-Nov-14
Jambay Lhakhang Drup,"Jambay Lhakhang, Choekhor, Bumthang",06-Nov-14,10-Nov-14
Prakhar Duchhoed,"Praka Lhakhang, Chummi, Bumthang",07-Nov-14,09-Nov-14
Black Necked Crane Festival,"Gangtey Gonpa, Phobjikha, Wangduephrodrang",11-Nov-14,11-Nov-14
Mongar Tshechu,"Monga Dzong, Mongar",28-Nov-14,01-Dec-14
Trashigang Tshechu,"Trashigang Dzong, Trashigang",30-Nov-14,02-Dec-14
Jambay Lahkhang Singye Cham,"Jambay Lhakhang, Choekhor, Bumthang",06-Dec-14,06-Dec-14
Nalakhar Tshechu,"Ngaa Lhakhang, Choekhor, Bumthang",06-Dec-14,08-Dec-14
Druk Wangyel Tshechu,"Dochula, Thimphu",13-Dec-14,13-Dec-14
Tronsgsa Tshechu,"Trongsa Dzong, Trangsa",30-Dec-14,01-Jan-15
Lhuentse Tshechu,"Lhuentse Dzong, Lhuentse",30-Dec-14,01-Jan-15
Nabji Lahkhang Drup,"Nabji Lhakhang, Nabji, Trongsa",16-Jan-15,19-Jan-15
[/table]
Health and Safety
Health Information
You should discuss your visit to Bhutan with a travel clinic in your area.  Generally, most visitors to Bhutan remain in the high altitude parts of the country and do not experience health related problems.  The exceptions are the low lying areas along the Indian border where there is a threat of Malaria.
An excellent resource for travel related health is the Center for Disease Control.
Visitors coming from an area infected with Yellow Fever are required to get a Yellow Fever vaccination and must be administered at least ten (10) days before arrival in the country. Likewise, visitors arriving from Cholera infected area should get vaccinated, and anti-malarial medication is strongly recommended for travelers visiting rural areas bordering India.
Health Services in Bhutan
Basic health services at the countries government hospitals are provided to all people in Bhutan (residents and visitors) free of cost. Any advanced procedures and diagnostics will require travel to hospitals in India or Thailand.
Tobacco
The Royal Government of Bhutan has implemented very strict laws regarding tobacco in order to reduce consumption.  The sale of tobacco is completely illegal and any imported tobacco for self-consumption must be declared with duties and taxes paid (currently the duty rate is 200%).
Personal Safety
Generally visitors to Bhutan experience no problems in terms of personal safety.  In fact Bhutan is one of the safest countries in the world with very few crimes.  Of course we do not recommend that you leave valuables lying around or waving large sums of money.
You are advised to review any travel warnings from your own country's foreign affairs office before arriving to ensure that there is no particular situation (especially in the transit cities):
[/wptabcontent]
Money Matters
Cash
Bhutan unit of Currency is Ngultrum (BTN) which is fixed at parity with the Indian Rupee (INR). You will need at least some Ngultrum currency for purchasing drinks along with any other personal expenses such as souvenirs that you will want.
Convertible currencies such as US Dollars, Euros and GB Pounds can be exchanged at the airport, many hotels and at the banks.  Generally the best way to bring in currency is in large US notes ($100 notes give the best exchange rate).
If you are travelling from India, you may carry Indian Rupees which will be accepted at par in Bhutan but do not carry 500 INR or 1000 INR notes as they are not legal in Bhutan.
ATM
The ATM network within Bhutan is very new and ATM Cards bearing the MasterCard or Visa logos will sometimes work at BOB (Bank of Bhutan) ATM machines.  The daily limits are quite restrictive and you may discover that you cannot withdraw more than 10,000 BTN ($180USD) at a time.
Credit Cards
Visa and American Express Credit Cards are accepted  in a few craft shops.  Be aware that the shop owner may impose a surcharge to recover their transaction processing fees.
Traveler's Cheque
We do not recommend carrying traveler's cheques. You will be much better to carry USD as the fees associated with traveler's cheques can be high and only the banks will be able to cash them.
Tipping
As your tour payment includes all meals, there is no expectation that you will be tipping the restaurant staff.
The guides and drivers are paid directly by Bhutan Peak Adventure and tipping your guide is entirely up to your preference.  A good guideline for a small group would be $8-$10 per day for the guide, however feel free to adjust the amount up or down depending on the quality of the service and the number of people in your group.
Travel In Bhutan
Bhutan Domestic Flights
Drukair offers a small number of domestic flights within Bhutan. In addition to the international airport in Paro, Bhutan also has airports located in Bumthang and Yonphula in the east part of Bhutan. Travellers wishing to travel to the eastern region of Bhutan can make use of these domestic flights to reduce the driving time. Currently these flights are offered with very low frequency (typically one or two times per week). Please consult
Drukair's website for scheduling information.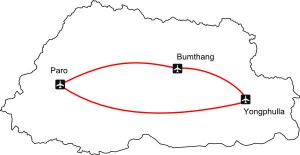 Driving within Bhutan
If you have never experienced driving in the Himalayan Mountains, driving through Bhutan will certainly be a thrilling experience. However because of the sharp twists and turns and the narrow roads, you will find that covering even short distances will take you much longer than you would ever expect. If you look at the table below it seems like the average speed in most of the country is about 30 km/h (18 mph), and it is correct.
Unfortunately road works will also cause havoc with driving as often the road needs to be blocked from both directions for several hours for the crew to work.
| | | |
| --- | --- | --- |
| From/To | Distance (km) | Approx Travel Time |
| Thimphu – Paro | 55 | 1 hr |
| Thimphu – Phuentsholing | 176 | 6 hrs |
| Phuentsholing – Bagdogra (India) | 170 | 4 hrs |
| Thimphu – Haa | 115 | 3 hrs 30 min |
| Haa – Paro | 60 | 2 hrs 30 min |
| Thimphu – Wangdue Phordang | 70 | 2 hrs |
| Thimphu – Punakha | 77 | 2 hrs 15 min |
| Punakha– Wangdue Phordang | 21 | 30 min |
| Wabgdue Phordang – Trongsa | 129 | 4 hrs |
| Trongsa – Bumthang | 68 | 2 hrs 30 min |
| Bumthang – Mongar | 190 | 7 hrs |
| Mongar – Trashigang | 90 | 3 hrs. |
| Trashigang – Trashi Yangtse | 65 | 2 hrs 30 min |
| Trashigang – Samdrup Jongkhar | 185 | 6 hrs |
| Gelephu – Zhemgang | 133 | 4 hrs |
| Zhemgang – Trongsa | 111 | 3 hrs 30 min |
[/wptabs]