If you have one month to set aside, legs of steel, and complete determinism, you can complete the 340km Snowman Trek in Bhutan.
The Snowman Trek has been labelled as the most difficult trek in the world by Lonely Planet. While no technical climbing skills are required, the difficulty comes just from the combination of duration and the many high-altitude passes that must be crossed along the way.
The most common route of the Snowman Trek starts north of Paro at Drugyel Dzong and finishes near Bumthang in a village called Dur. There are actually several places along the way where there are alternative paths that can be taken if the path is blocked with snow. There is a variant of the trek which is often called "Half-Snowman" that starts at Gasa but still requires about 19 days through the remotest parts of Bhutan.
Snowman Trek Virtual Tour
If you are curious to get an idea about what you would see on the snowman trek, you can watch my 7-minute virtual snowman trek tour. I created this using Google Earth with a relatively high eye elevation but the scenery that you see in my video is relatively close to what you would experience. Unfortunately, the elevations of the passes are from the non-corrected GPS readings so you might have to add between 50 and 150 meters to the values that are shown in my movie.
Photos from a trip
Here are some photos from a group that completed the snowman trek during the summer (mid-June to mid-July).
The Cost of the Snowman Trek
You will find the prices for the Snowman Trek at the bottom of this page. Please scroll down to see. Here I will explain why it is an expensive trek.
Unfortunately, besides being the hardest and longest trek in Bhutan, it also turns out to be the most expensive. The reason for the price partially is based on the number of days that you must be in Bhutan (remember that each day has a minimum tariff to be paid) but the price has more to do with the remoteness of the trek.
The guide charges more money in these remote parts simply because they have the experience on the route and their local knowledge is critical when it comes to difficult situations. Running a trek for 31 days is full of logistical problems just to deal with the food. A typical snowman trek uses between 12 and 20 horses to carry some 150kg to 250kg of food for the trekkers plus the support staff, the LPG cylinders for cooking, the tents, and any other equipment that is required to be used along the trek.
There are no actual places along the trip where food can be purchased. The pony team is loaded up with food at Drugyel Dzong with enough to make it Laya. Although Laya is a fairly large village along the way, there are no places where sufficient food could be purchased to make the second part of the trip. Therefore a trekking team with a replenishment of food must be carried up from Gasa (another team of horses making a 2 day trek) to deliver the food just as you reach.
Even when you finish the trek, the trek expenses are not actually finished. You get picked up and moved to a hotel and eventually moved back to Thimphu or Paro by car or flight. Remember that there are now some 20 horses in central Bhutan that actually belong back at Paro and somebody has to move them back.
If you look at the bottom of this page where I've listed the prices, you will probably be shocked by the cost of a single person. This is because organizing the trip for one person is no less difficult than for 6 people. As the size of the group increases, we are able to offer much better prices just because of the economy of scale.
Are you only one person and want to try to travel in a group? Please let us know, we maintain a mailing list of people who have contacted us. Sometimes the list doesn't get big enough to drop our price but there is no cost in asking.
Route Map and Elevation Profile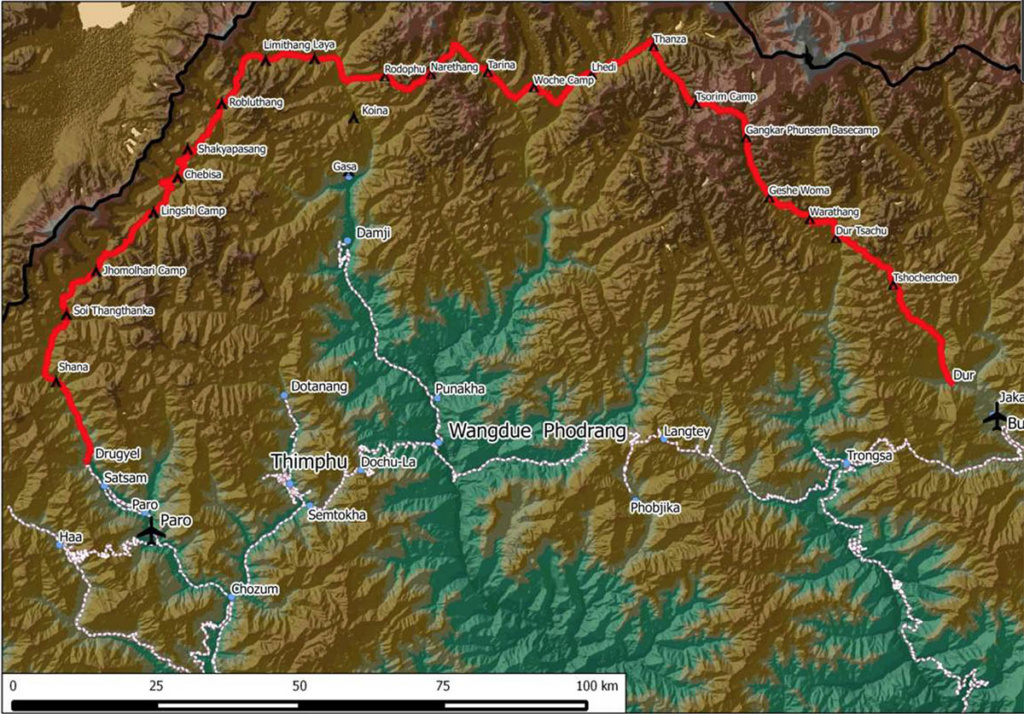 The highest point along the path is Gophu La Pass at 5230m. If you do some Google searching online, you will find that some people claim Gophu La Pass at 5455m and sometimes 5230m. So why the confusion?
The problem with the altitude measurements is that most of the measurements were done using various GPS devices at various times. Although a GPS with 10-12 satellites might claim that it is within 3-5 meters accurate, the altitude measurement tends to be highly inaccurate. The earth is not round, no this is not some flat earth type lecture, but it is an ellipsoid (think of a watermelon type shape). The coordinate system WGS84 used by most GPS units and even Google Earth is quite accurate for position but the altitude you're your GPS is likely based on the ellipsoid approximation that doesn't actually match reality.
For example, where I am sitting in Thimphu writing this page, my GPS gives an elevation of 2188m but Google Earth gives my elevation at 2359m. This sounds like the GPS must be completely unreliable but the Long/Lat position from the unit shows pretty close to my real position on Google Earth. My GPS unit is relatively old (about 2006) and doesn't contain any sort of correction for the altitude. A newer GPS system like the one on my iPhone is likely to use corrections and gives the elevation of 2350m.
In the video that I produced for the virtual snowman trek, I used the old uncorrected GPS coordinates but in the descriptions below I've try to be a bit more accurate to match what is being shown on Google Earth.
Time of Year
The route is at a high enough elevation that snow can be present at most times of the year. The snow usually stops falling in March, but the passes can still remain blocked for a couple of months. The snow begins again in mid-October, so within a couple of weeks you can expect the path to be impassable once again.
Weather is completely unpredictable and so there is a risk that no matter when you go, you may have to abandon the trek. There are times however where you changes are pretty much 100% and these are when you reach Thanza between mid-June and mid-October.
The trips in June have a higher chance that you will have to endure rain and the skies are likely to be cloudy while a trip in October will likely have no rain, but the temperatures are going to end up being much colder.
Health & Safety
Communication in the Lunana region is quite limited. Between Paro and Laya there is generally mobile coverage available but from Nerathang to Bumthang there is hardly any mobile phone service. We provide the guide with a satellite phone in case of emergency and even then, it is sometimes necessary to send somebody with the phone to a position where the satellite is not blocked by a mountain.
Reading about high altitude trekking, you might find some descriptions of a device called a Gamow Bag; a mini hyperbaric chamber in which somebody suffering some altitude sickness can get inside and the bag can be inflated so that the altitude pressure is lower. The actual ascent made by the trekkers starting in Drugyel Dzong is a slow steady climb and with the extra day at Jangothang, trekkers can easily acclimatize. It is not likely that a trekker is going to suffer altitude sickness later on in the journey that would require the use of a Gamow bag because they are unlikely to move forward fast enough. Our team does carry cylinders of oxygen in case there are problems. Most parts of the trek easily allow for the descent to a lower altitude and there is always the option of a helicopter evacuation should something very serious arise.
Altitude Acclimatization
The snowman trek takes you as high as 5455m (17896 ft) at Gophu La pass which is a serious altitude when it comes to considering altitude sickness. The good news is that you only reach Gophu La pass after 19 days on the trek and the altitude increase is rather gradual so your body will have become acclimatized well before this point.
To acclimatize to the lower oxygen levels at high altitude you need to increase your altitude at a slow rate. Luckily the start of the snowman trek slowly increases the elevation from 2500m at Drugyel Dzong to 4000m at Jangothang over a period of three days. The rest day at Jangothang is not there because you are expected to be tired after only 3 days but rather so that you can use the day to climb as high as 4900m returning back to the camp for sleeping. This practice, knowm as "trek high, sleep low" is an important part of the acclimatization process. Even the day after the halt at Jangothang, the trip takes you over Nyila La Pass at 4870m but returns you to 4000m for the overnight.
Power
We all lots of gadgets that we carry with us during travel such as cameras, mobile, phones, GPS units, etc. While travelling about in various hotels, we always have the ability to charge up the devices at night. During the snowman trek, you won't be finding very many places with power. The first few stops sometimes has power but beyond Chebisa until Laya there is nothing. After Laya, you should be prepared for no power until reaching the end of the trek! Sometimes the school in Lhedi or Thanza may allow you to charge your batteries from their solar setup but if the sun has been limited, they might not be willing to depart with the energy they have collected.
This means that you should bring sufficient batteries or power banks to make it through 14 days. In order to make your camera batteries last try these tips:
Turn off your LCD display (if possible). If not, turn down the brightness to as low as it can go and minimize the amount of time that it is on. This is the one trip where a standard DLSR is going to win over a mirrorless or point and shoot camera.
Don't preview your images after taking them.
Turn off any sort of option like wireless, Bluetooth and sensor cleaning.
Turn the camera complete off when not in use.
Minimize the amount of "powered zoom" that you use. This means if you have a point and shoot camera where the zoom is done with a button, don't use the zoom feature so much. If you have a manual zoom, the this doesn't really matter.
Minimize the use of focusing. Each focus attempt will use power so if you have a DLSR you can switch to manual focus each shot.
Disable image stabilization when not necessary. If you need stabilization consider taking a lightweight tripod or use a rock to stabilize the camera.
Before heading out on the snowman trek, why not buy a couple of new batteries. Batteries tend to get weak over time and do not hold a charge as much as new ones. I also recommend not taking the approach of picking cheap no-name batteries (or if you do buy about 3 times the number). Most of the cheap non-name batteries I've purchased for the Canon DLSR have had limited capacity compared to an original Canon.
Time Required to Plan
How much planning in advance do we need to book the trip? The answer probably depends on how busy our trekking guide is. It might be possible to book the trip with less than 1 month notice but it would be far better to plan 6 months in advance. This way we can make sure that everything is ready and if you want to use the flight to return from the East, there is a chance that the seats will be available.
Plane or Drive Return to Western Bhutan
At the end of the snowman trek, you will find yourself in central Bhutan in a small town called Bumthang. The drive from Bumthang to Thimphu is about 9 hours if there are no roadblocks due to landslides from heavy rain. The road is mostly good except for a 1-hour section near Trongsa where the road is still not blacktopped (as of July 2019). If you are finishing the snowman trek in September to November, then there is relatively low chance that there will be road blocks and the drive back will be relatively easy. However, if your trek is finishing in July or August, be prepared for a very long and muddy trip back by road. It is actually much easier to fly back to Paro during the summer months but even then we have seen flights cancelled due to low clouds.
Itinerary
The itinerary that has been written here includes two days before the trek and two days after the trek. It is difficult to remove days from the trip but there are a couple of rest days that might be possible to be removed (although we don't recommend it). It is always possible to add additional days to the trek if you are interested in seeing Punakha or more of Thimphu.
Day 1: Arrival in Bhutan
On arrival at the Paro Airport, you will be received by a representative of Bhutan Peak Adventure who will take you to your hotel for overnight stay at Paro. Depending on the time of arrival you will have the opportunity to visit the Paro Dzong, Kichu Lhakhang, or watch some locals playing archery.
Day 2: Taktsang Hike
This morning, we will drive to the base famous Taktsang Monastery. Taktsang nestles on a black rock face 900 meters above the valley floor. Taktsang monastery is one of the holiest and the most beautiful sites of Bhutan. Taktsang, the tiger's lair, acquires its name from the legend of its foundation, when in the 8th Century Guru Rinpoche, widely revered as the second Buddha, arrived from Tibet flying across the mountains on the back of a tigress. If time permits you may also take a drive up to Chele La pass to see the highest motorable pass in Bhutan.
Day 3: Paro – Shana
Distance: 17 km. Trek time: 5-6 hours. Altitude of camp: 2,800m.
Drive up to the end of the road at Drugyel Dzong where the trek begins. The trail follows the river gently uphill through narrowing valley and agricultural fields of the Tsento Village.
Day 4: Shana – Soi Thangthankha
Distance: 16 km. Trek time: 6–7 hours.
The trail continues uphill following the Paro River until the valley narrows and leads to the slopes. Then it descends down into another valley.
Day 5: Soi Thangthangkha – Jangothang
Distance: 12 km. Trek time: 6–7 hours. Altitude of camp: 4040m.
The trek is along a gradual uphill trail which passes an army outpost. After lunch you will be passing through the bases of many snow peaked slopes. Overnight in camp at the base of Mt. Jhumolhari.
Day 6: Jangothang Rest Day
In order to help with the altitude acclimatization, a day of rest is planned here. There are many side trips from the camp that can be used to help get your body used to the altitude.
Day 7: Jangothang – Lingshi
Distance: 19 km. Trek time: 6–7 hours. Altitude of camp: 4150m.
Trek through wide yak pastures and beautiful snow clad mountains. Today you will be crossing Nyile La pass at 4890m. As you approach the Lingshi basin, the breathtaking view of the Lingshi Dzong can be seen. The Tsarim Gang mountain and its glaciers rise up at the north end of the valley. Camp near the stone shelter for travelers.
Day 8: Lingshi – Chebisa
Distance: 12 km. Trek time: 5–6 hours. Altitude of camp: 3850m.
This is probably the easiest walking day of your trip and the walk is on a wide trail with hardly and ascends. On reaching camp one can visit the small yak herding village or take a walk to the upper end of the valley.
Day 9: Chebisa – Shakyapasang
Distance: 17 km. Trek time: 6–7 hours. Altitude of camp: 4260m.
The trek today is through wild high pastures and the trail passes through a few sparsely populated villages. You will be crossing the Gombu La pass at an altitude of 4440m.
Day 10: Shakyapasang – Robluthang
Distance: 15 km. Trek time: 5–6 hours. Altitude of camp: 4320m.
An early start is advisable as you will be crossing the Jarila Pass which stands at 4785 m above sea level. Then descend down to Tsarijathang where herds of the National Animal, Takin can be seen. Camp on the flat ledge above the river.
Day 11: Robluthang – Limithang
Distance: 14 km. Trek time: 6–7 hours. Altitude of camp: 4160m.
Today is the first extremely high altitude pass of Sinche La which reaches 5000m.
Day 12: Limithang – Laya
Distance: 9 km. Trek time: 4 hours. Altitude of camp: 3804m.
Today, you walk downhill all the way along a narrow, winding river valley. After a long time, the trail takes you through densely forested region. The trail leads you to the west side of Laya village. From the west of the village you will have spectacular views of Mt. Gangchhenta and catch Mt. Masagang. In the village centre is a community school and a basic health unit with a telephone connection. The campsite is located below the school.
Day 13: Laya Rest Day
A day of rest and relaxation. One can take a leisurely walk through the village or hike to the monastery above the village. Entertainment by the local dancers in the evening. Overnight in camp.
Day 14: Laya – Rodophu
Distance: 19 km. Trek time: 6–7 days. Altitude of camp: 4160m.
The trail today follows the ancient trade route and leads one through pasture for yaks.
Day 15: Rodophu – Narithang
Distance: 17 km. Trek time: 5–6 hours. Altitude of camp: 4940m.
Another early morning start to cross Tsemo La at 4905m. The trail follows the alpine grassland where yaks bound in plenty. The view of the surrounding mountains is absolutely breathtaking. Remember to drink plenty of fluids as the camp's altitude is very high.
Day 16: Narithang – Tarina
Distance: 18 km. Trek time: 6–7 hours. Altitude of camp: 4300m.
Today you will be crossing the extremely high pass of Ganglakurchung La at an altitude of 5100m.
Day 17: Tarina – Woche
Distance: 15 km. Trek time: 5–6 hours. Altitude of camp: 4400m.
The camp site marks the beginning of the Lunana region, a land known for its glacial lakes which brought the heavy flood in Punakha a few years ago.
Day 18: Woche – Lhedi
Distance: 19 km. Trek time: 6–7 hours. Altitude of camp: 4200m.
The trail today consists of crossing the Kechela Pass at 4550m. Stop at the Thega village for rest and lunch, then continue to camp.
Day 19: Lhedi – Thanza
Distance: 19 km. Trek time: 5–6 hours. Altitude of camp: 4050m.
The trek is slightly easy today. Enroute visit the Chezo Dzong.
Day 20: Thanza Rest Day
A day of rest to soothe aching muscles. Explore the village and meet some locals. Short hikes can be taken around the camp.
Day 21: Thanza – Tshorim
Distance: 18 km. Trek time: 6–7 hours. Altitude of camp: 4500m.
Another beautiful pass to cross today, namely, the Jezela pass at an altitude of 5050m.
Day 22: Tshorim – Sernam
Distance: 13 km. Trek time: 6-7 hours. Altitude of camp: 4970m.
This is one of the highlights of the trek and the day starts with a short climb to the Tshorim Thso. You walk on the side of the lake enjoying a panoramic view of the Gophu La ranges. The last climb to the Gophu La pass (5,230m) is very short. After the pass descend to the base camp, walking along the ridge to enjoy a great view of Gangkhar Puensum. If interested, one can divert to the left side to climb up the pyramid peak for a better view or you can go down to the base camp nearby Sha Chhu.
Day 23: Sername – Minch Gang
Distance: 12 km. Trek time: 6-7 hours. Altitude of camp: 4200m.
The trail further follows the Sha Chhu and descends gradually to Geshe Woma.
Day 24: Minch Gang – Warathang
Distance: 12 km. Trek time: 8-9 hours. Altitude of camp: 4000m.
The path continues following Sha Chhu for two and a half hours until the stiff climb to Saka La begins. Visibility along the Saka La trail is poor so one must see top of the ridge for guidance. After having lunch nearby a yak herders' camp you climb up to Saka La (4,800m). The path then descends to a couple of lakes and another short ascent is stunning. Scenery once again is beautiful with small lakes and the mountain peaks.
Day 25: Warathang – Dur Tsachu
Distance: 8 km. Trek time: 5 hours. Altitude of camp: 3590m.
A one hour climb leads to Juli La (4,700m). After the pass, you descend to the riverside through dense rhododendron, juniper and conifer forests. After the bridge a short climb leads to Duer Tsachu. These hot springs, where Guru Padmasambhava is supposed to
have taken bath, might be the most stunningly beautiful hot springs of the Himalayas. You might want to spend an extra day at Duer Tsachu.
Day 26: Dur Tsachu – Tshochenchen
Distance: 15 km. Trek time: 8-9 hours. Altitude of camp: 3850m.
From the hot springs it is a long and steady climb again with great views of mountains in Lunana. You will also come across blue lakes and yak herder huts.
Day 27: Tshochenchen – Dur/Bumthang
Distance: 22 km. Trek time: 8-9 hours.
The path follows the Chamkhar Chhu, descending gradually with a few climbs in between.
Day 28: Thimphu
Transfer to Thimphu via the lateral highway. This will be a very early start since the driving time is about 9 hours. Overnight in hotel.
Day 29: Thimphu and/or Paro
Spend the day in Thimphu visiting the landmarks. Depending on your flight timing tomorrow you can either drive to Paro for the final night or remain in Thimphu. Overnight in hotel.
Day 30: Departure
Your guide will take you to the airport and bid you farewell.
Trip Cost
The costs for the snowman trek are often changing. The prices in the table below are valid for 2019. We don't expect a lot of changes in 2020 but there are a lot of things that can affect the prices. We had to increase the cost in 2018 simply because the horse owners increased their price significantly.
The price in the table provides 3-star accommodation (when in hotels) based on twin sharing. The price does not include any flight between Bumthang and Paro, it assumes that you will be using a van/bus to reach western Bhutan after your trek is complete.
Overview
| | |
| --- | --- |
| Day 1 | Arrive in Bhutan |
| Day 2 | Tiger's Nest Hike |
| Day 3 | Trek to Shana |
| Day 4 | Trek to Soi Thangthanka |
| Day 5 | Trek to Jumolhari Base Camp |
| Day 6 | Acclimatization Hikes |
| Day 7 | Hike to Chebisa |
| Day 8 | Hike to Lingshi |
| Day 9 | Hike to Shamuthang |
| Day 10 | Hike to Robluthang |
| Day 11 | Hike to Limithang |
| Day 12 | Hike to Laya |
| Day 13 | Laya Rest Date |
| Day 14 | Hike to Rodophu |
| Day 15 | Hike to Narithang |
| Day 16 | Hike to Tarina |
| Day 17 | Hike to Woche |
| Day 18 | Hike to Lhedi |
| Day 19 | Hike to Thanza |
| Day 20 | Thanza Rest Day |
| Day 21 | Hike to Tshorim |
| Day 22 | Hike to Sername |
| Day 23 | Hike to Minch Gang |
| Day 24 | Hike to Warathang |
| Day 25 | Hike to Dur Tsatchu |
| Day 26 | Hike to Tshochenchen |
| Day 27 | Hike to Dur Villa and transfer to Bumthang Hotel |
| Day 28 | Drive to Thimphu |
| Day 29 | Thimphu Sightseeing |
| Day 30 | Depart |
All packages can be customized. We can easily add extra days to the end of any package that you find on this website. Removing days is usually very easy to do as long as the driving or the treking is still possible. Some of the treks have two days in a row of descent and sometimes, if you are fit enough, we are able to skip a camp or two.
Printable Version
A PDF version of
Snowman Trek
can be downloaded and printed.