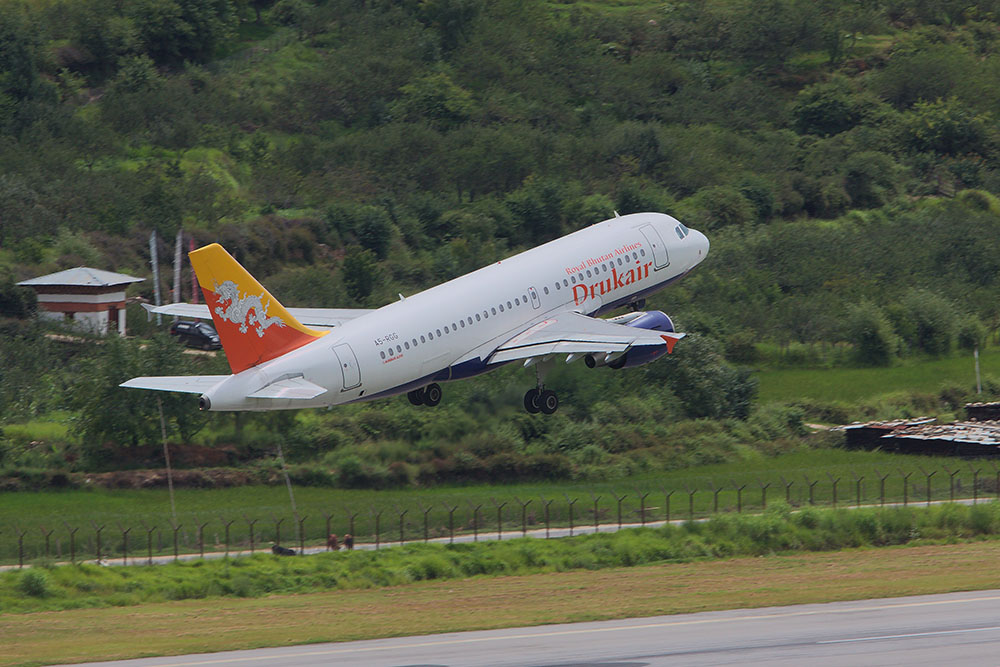 The question could mean one of two things. Maybe it is the case that you have been searching online trying to figure out how to fly from London or New York to Bhutan and you are searching to try and get an idea of how much the flight is going to cost. It is also possible that you interesting in visiting Bhutan and don't have any idea of where to start.
In this article, I am going to write only about the flight arrangements. The process of booking the actual trip to Bhutan is long enough to be its own article and I'll write that another time.
Airlines Flying to Bhutan
The legend says that the great Indian master Padmasambhava, known as Guru Rimpoche in Tibet, arrived in Bhutan by flying on the back of a tigress. Since flying tigers are rather difficult to acquire these days, you will normally end up reaching Bhutan inside a flying airplane instead.
Building an airport in Bhutan was rather a difficult task, the mountains are high, and the valleys are narrow and generally not straight. The valley along the Paro river luckily had about 7000 feet of relatively straight and flat area and this ended up becoming the location for the international airport in the country (the other airports are only for domestic flights). The approach to the runway itself isn't even straight and requires flying by hand snaking around the mountains and making last minute turns.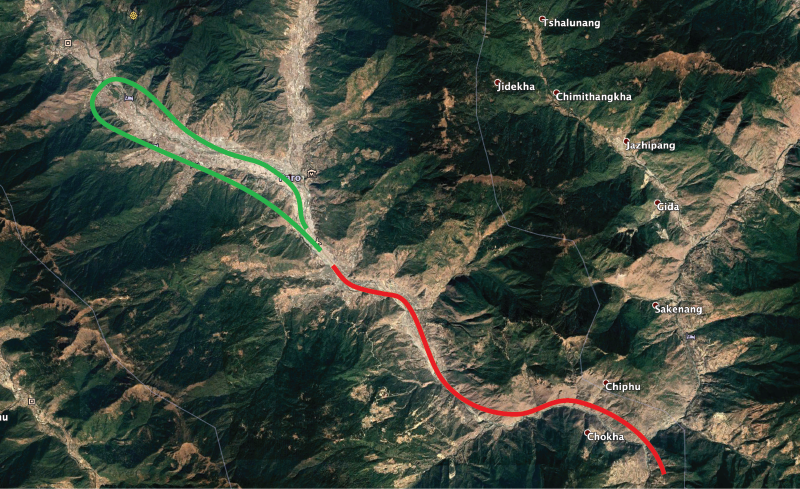 The image shows two arrival routes with the runway 15 shown in green and the route for runway 33 shown in red. Both routes are actually quite spectacular to experience where you will look out the side window and wonder how close those wings are to the mountain (or that house). There are a few videos on YouTube where people have sat in the cockpit and have recorded the experience such as [insert link to full video here]. I've taken one approach to runway 15 and sped it up to finish in 30 seconds so that you get a quick idea of what happens on these flights.
The type of flying shown here cannot be automated, so the pilot switches off the autopilot and flies by hand for the final 10-15 minutes of the flight. The flying between mountains requires that everything can be seen at all times so night flying and flying through clouds is simply out of the question. Can you image what happens if the pilot takes a wrong valley? It has happened before with a private jet flying up the Thimphu valley trying to find the runway…luckily the pilot was able to turn the jet around and get out of the valley. This type of approach is left to only those with experience in Bhutan. If you track down the approach plate for Kathmandu, it looks complicated, but the valley is very wide and considerably easier to navigate with an auto pilot.
To prevent problems, the government has decided that the only carriers flying into Bhutan are the national carrier DrukAir and the private airline Bhutan Airlines. Therefore, to reach Bhutan, you need to get yourself to a city that is served by one of these two airlines.
Some time back DrukAir did have a code share arrangement with Thai Airways but that seems to have gone away and it was quite expensive. What this means is that if you live in a place other than where these airlines operate, you will be looking at two separate tickets and I suggest that unless you are on some sort of super tight timeline you should break your trip and visit one of the cities along the way. Even if you are on a strict timeline it is best to leave at minimum 6 hours; most of time I am planning an overnight stay.
Cities Served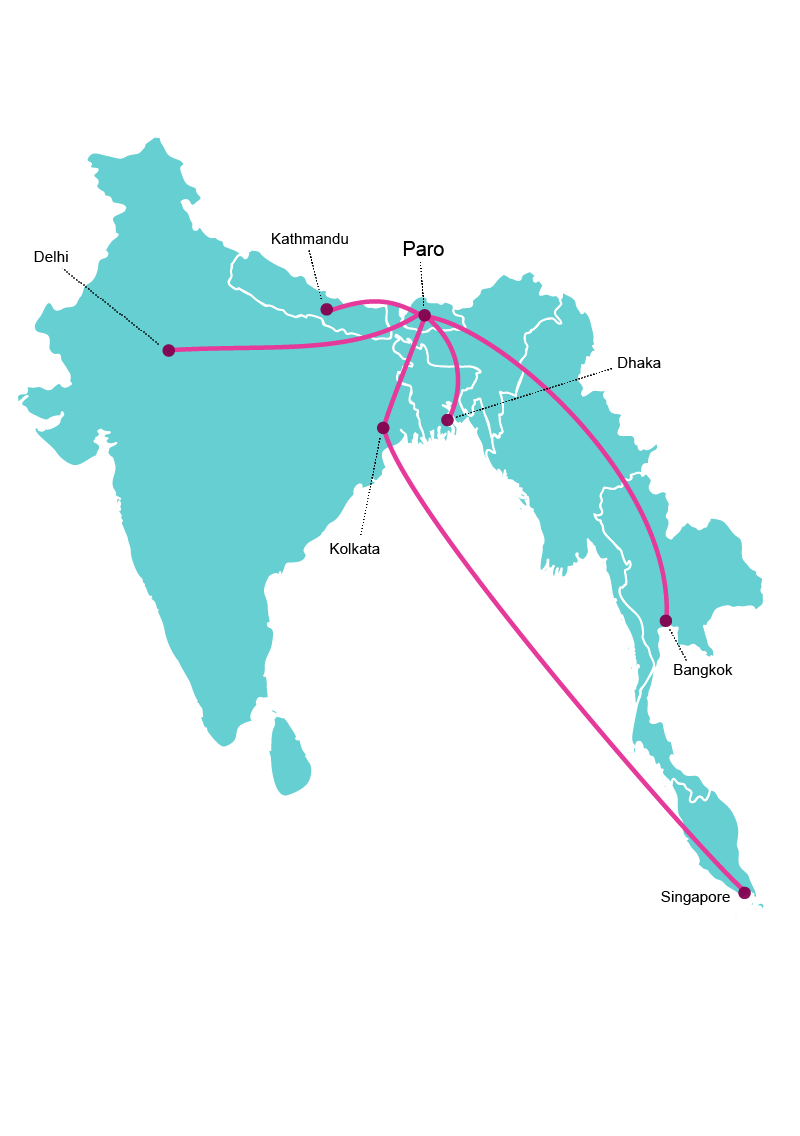 Which city to pick for the transit?
If there is something that you really want to see in a particular place then it makes the choice quite easy. For example, if you really want to see the Taj Mahal as part of your trip then Delhi becomes an obvious choice as a transit city. However, if you have no real preference then you can pick the destination based on the price, the ease for obtaining the visa and your comfort level with transiting through strange places.
Each of the main transit cities with worthy of its own one-page write up and these will appear on this site as they are written. There is an older article that I've written about Kathmandu but since I will be making that trip in about 1 month, I might as well wait and I can pick up some new pictures.
The flights between Paro and either Kathmandu or Delhi have a particularly interesting landscape and this is the one time that you don't want to close the window shade. The flight path takes you about 100 kilometers south of the Himalayan mountain ridge and given that the flight cruises about 30,000 feet you end up just 2,000 feet higher than the highest peak (Mount Everest) along the way. Now 100 km might seem like a long way away but trust me, it is close enough to get a good view. Here is a picture captured on the way from Paro to Kathmandu. The ability to see the mountains depends on the season and luck. This image was taken in March but the weather is usually like this until late April. Often the trips during the summer months is just cloud cover. Going in the winter months usually gives you completely clear skies.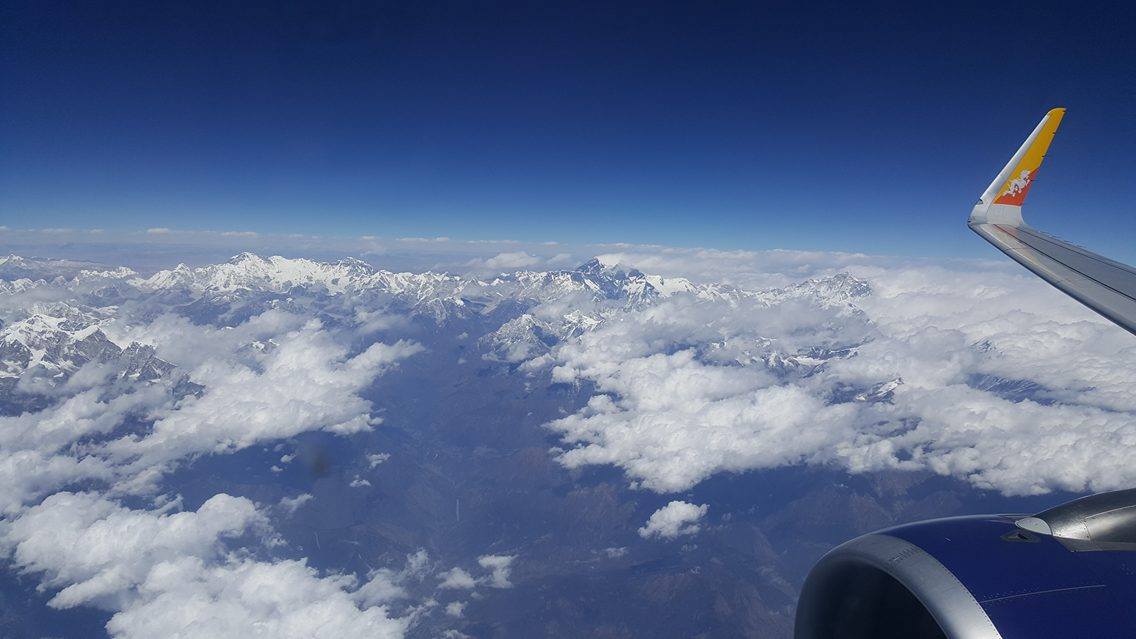 Usually what happens is that the check-in staff will put all of the foreigners on the side of the plane with the mountains and all the local Bhutanese on the other side of the plane. Don't worry, even if you end up on the wrong side of the plane, people on the good side will usually allow you to sneak in to get a look through their window for a few minutes. If the weather is good, the pilot will usually make an announcement when Everest is visible.
Service
Both Drukair and Bhutan Airlines operate a 2-class cabin with Economy and Business class. Bhutan Airlines used to have a "Premium Economy" cabin with more leg room but it seems like this option has disappeared.
Business Class is not that Expensive
You think of Business class and you immediately assume that it is 2 to 3 times as expensive as economy class. In the case of getting to Bhutan, you would be surprised by the minimal price difference between economy and business class. The business class seats are basic recliner type seats arranged in 2×2 configuration with more elbow room and leg room. The advantage of business class will also be a nicer meal and of course a lounge at the airport (for Kathmandu, this is probably worth the upgrade).
Purchasing
Both airlines offer the ability to purchase the tickets to Bhutan directly online, but this is one time where I would suggest to you to let the agent abroad get the tickets for you. The agent will probably not charge you any additional amount on the cost and if they do charge more money, then certainly book it directly. The agents in Bhutan do receive a small commission from each airline ticket purchased and if you book it directly with the airline, you are saving the airline the money and you are certainly not gaining anything from doing this.
Watch out for the online booking engine however. The airlines offer a Bhutanese and SARCC fare. If you book one of these and you do not actually have the right passport you are not going to be allowed to get onto the plane without paying the difference in fares.
There is also a positive side to letting the agent book for you. If you have a specific date in mind and the seats are showing booked through the airlines system then you have no chance. What an agent in Bhutan can do, is to go into the office and add your name to the waitlist. The airlines in Bhutan allow agents to hold the seats for a couple of weeks so that money can be sent by the clients but a number of these holdings end up expiring and if your name is on the waitlist then you get confirmed. With the exception of the very high festival seasons, we've been able to confirm seats most of the time. Also, we have seen that when the waitlist becomes very large, the airline might run a second flight (this only ever happens during the festivals).
For the flights between your home city and the transit city, it is probably best to look after these yourself through either a local agent, directly with the airline, or through some site like Expedia. Some agents in Bhutan do have access to international flights, so you can ask them, but you are likely to find that they will have to charge more than you can find online (of course it doesn't cost anything to ask if they can provide the service).
Open Jaw Tickets
An open jaw ticket is a ticket where you start from your origin city to one destination but return from a different place to your starting point. This might sound like two separate one-way tickets, but airlines treat such a ticket like a round-trip in terms of pricing. If you can't decide between transiting Kathmandu or Bangkok, why not book an open jaw ticket to Kathmandu and return from Bangkok. Use one of the Bhutanese airlines to get from Kathmandu to Bhutan and then out to Bangkok. You will likely find that the price of such an open jaw ticket is not really that much different than a return flight to either Kathmandu or Bangkok.
What if you want to see Nepal, India, and Thailand all as part of your Bhutan trip? Luckily, there are a lot of very inexpensive airlines in South East Asia and arranging a single one-way flight between Bangkok and one of the other cities is usually quite inexpensive.
To find the price of an open jaw ticket head to any booking site such as Expedia and select "multi-city trips" and add the two flights.
Be careful with multi-city itineraries that do not involve a single common place. For example, if you want to fly from Paris to Bangkok and then from Delhi to London, this is not considered an open jaw and could be calculated as two very expensive one-way tickets.
Drukair Price Examples
I'm providing prices here just to give an idea of the cost for planning purposes. The prices could change significantly over time so check with the airlines or the agent, but these have been sort of typical prices for the past few years. I have been witnessing increases on the Paro-Bangkok sector over the past couple of years.
The prices I've put are round-trip fares per person in US dollars. If you want to use two cities to form an open jaw, you'll need to divide each sector price by 2 and add the numbers together.
| | | |
| --- | --- | --- |
| Sector | Economy Class | Business Class |
| Kathmandu-Paro-Kathmandu | $420 | $475 |
| Delhi-Paro-Delhi | $620 | $770 |
| Bangkok-Paro-Bangkok | $950 | $1070 |
| Singapore-Paro-Singapore | $1000 | $1650 |
International Flights
Yes, flying from Thailand to Bhutan is actually an international flight but what I'm talking about here is the flight from your origin to the transit city.

Since you could be starting from anywhere, the best starting place is to open Expedia's website, pick your dates and your starting location and search for a round trip ticket to Kathmandu, Delhi and Bangkok and note down the price that each one is going to cost. If you live close to different cities or have some way to cheaply reach a different nearby city (via train or bus) then try those as well.
Price Examples
I can't provide all of the possible options, but I've picked 4 cities to give you an idea of the amount of money you could be expecting to spend. Just like the airline prices to Bhutan, there are no guarantees that these prices are actually available, they are typical prices as of May 2019 but could change significantly.
I pulled the prices from Expedia for travel 4 months in advance. Prices are per person in economy class in US dollars. Similar to the Bhutan prices if you want to get an idea of an open jaw, divide the sector by 2. Sometimes if I saw just a single super cheap flight with terrible connection times or with a warning that only 1 or seats were remaining, I skipped them. You might find that there are some super cheap tickets even less than what I've put available when you look.
| | | |
| --- | --- | --- |
| Sector | Airline | Price |
| London – Kathmandu | Qatar Airways | $650 |
| London – Bangkok | Lufthansa | $525 |
| London – Delhi | Emirates | $550 |
| New York – Kathmandu | Emirates | $900 |
| New York – Bangkok | Air China | $530 |
| New York – Delhi | United Airlines | $800 |
| Los Angeles – Kathmandu | Qatar Airways | $1100 |
| Los Angeles – Bangkok | Air China | $500 |
| Los Angeles – Delhi | China Eastern | $750 |
| Tokyo – Kathmandu | China Eastern | $580 |
| Tokyo – Bangkok | Air Asia | $320 |
| Tokyo – Delhi | Cathay Pacific | $780 |
You can certainly see from the pricing examples that including Kathmandu is unfortunately quite expensive due to the limited number of competitors flying there. But what you will get by including Kathmandu is a cheaper flight into Bhutan so there is reason to go.
Conclusion
To reach Bhutan, you are almost certainly going to involve at least a one night stay in Delhi, Kathmandu or Bangkok. I recommend that you extend your trip by a few days and enjoy the city (or cites) that you pick. If you want, we can also do the arrangement or a tour or the hotels, sometimes for very little extra on top of the cost of the Bhutan trip (depends on the season and the number of people).
The easiest way is to plan the airline tickets from where you are to the transit city and let us plan the tickets for the final flight to reach Bhutan.