Booking a trip to Bhutan is a bit different than most other places. If you do some research, you will find that you need to purchase an all-inclusive package tour from a local tour operator.
Just because you need to purchase a tour package doesn't mean that you have to just do whatever some tour operator tells you or stay in the tour operator's hotels. It is your trip and you have all the rights to specify what you want to see and which hotels you want to stay in. Keep in mind of course that you might have to extend your planned time in order to see everything and the tour operator may need to charge you additional money on top of the minimum payment.
Infographic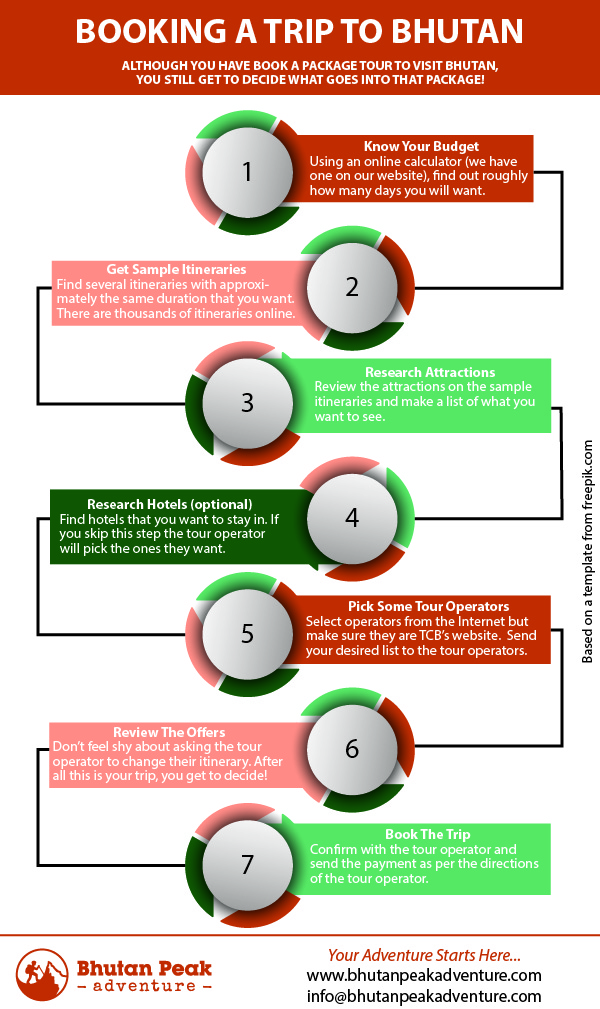 Details
Bhutan is known for being expensive so why not start by checking out an online calculator to see what the price is going to be. This will at least give you an idea of the number of days needed.
Collect sample itineraries from many different operators online. At this point it doesn't really matter from where you get them, they are just to provide you a list of attractions to see.
Research the attractions but don't worry about the locations just read about people's opinions to see if this is something that you want to include. You can find reviews on places like TripAdvisor. We have a few places listed but this is just one opinion and TripAdvisor will give you many.
Search for hotels. This step is sort of optional but I recommend it because your hotels can make or break a trip. If you don't tell an operator which hotel to use, they will use the ones that they like (some operators will pick the cheapest available, some operators will pick nicer ones).
Find a few tour operators. This is the most difficult part of the process. You can ask for recommendations on TripAdvisor or find operators through a Google search. Once you have picked a few operators, check the TCB Directory and make sure that they are legitimate. Send your list of attraction and hotel requests to the operators (I suggest making separate emails for each of the operators).
Review the itineraries and the prices to pick the best. Don't be afraid to respond back to the operator if they missed something. If the operator is suggesting to add time or skip things, you might need to do some more work to see if it is a reasonable change.
Arrange the payment for the tour with the operator you have picked.