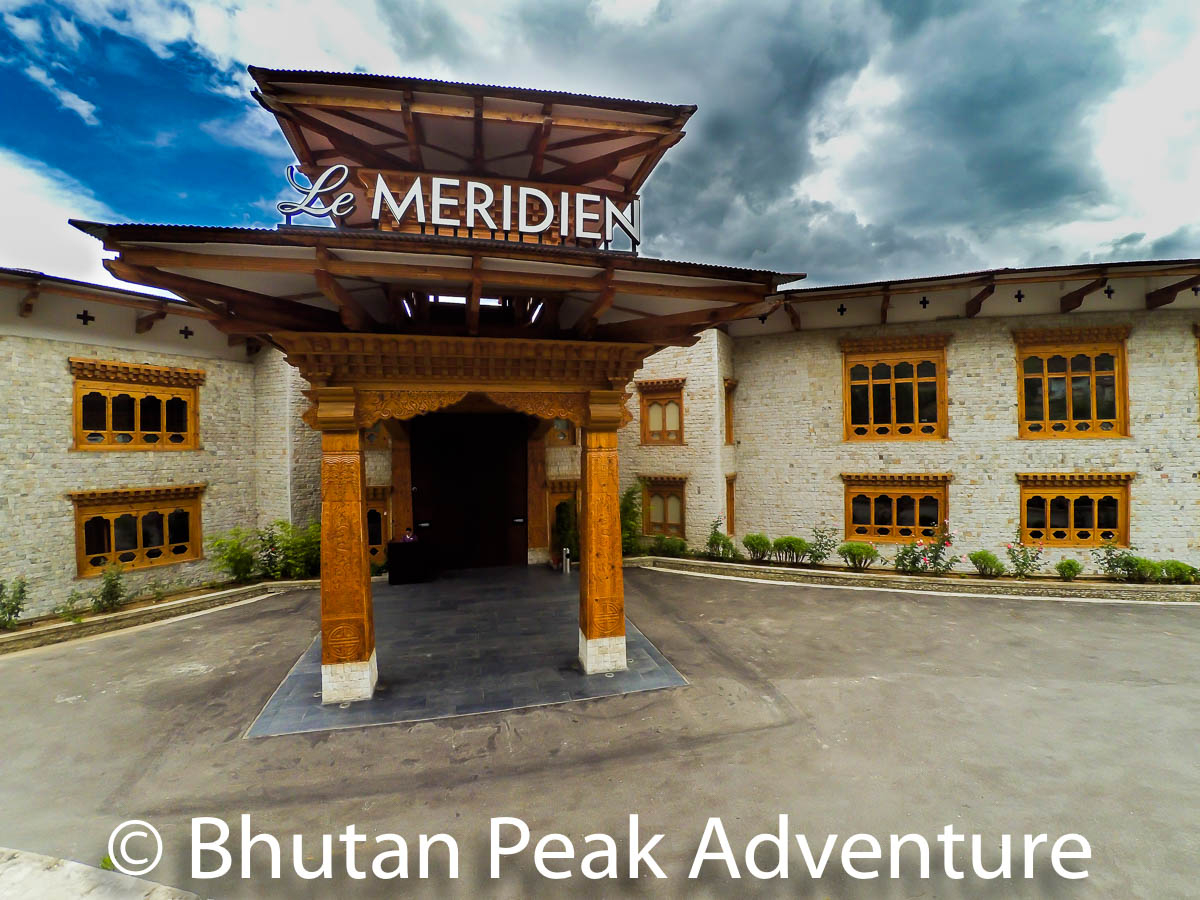 Already Expensive Enough
I know what you are thinking. You already know or have heard that Bhutan is expensive and here I am writing about 5-star properties to make your trip even more expensive?
It turns out that adding a 5-star property for a couple of nights as part of your trip might not actually add very much extra cost to your total trip cost but it would certainly enhance your enjoyment of visiting Bhutan.
Let's review the hotel first and at the end of this article, I'll give you an idea of how much this upgrade is going to cost.
Our Tour
The original review of the 5-star hotel Le Meridien in Paro was written in July 2016, but it was placed on my old WordPress site. In today's article, I'm reworking the text and moving the images to our own server.
In July 2016, the Association of Bhutan Tour Operator (known to us as ABTO) held a familiarization tour of the newly opened Le Meridien Riverfront Hotel in Paro, Bhutan. This gave us a chance to chat with the management of the hotel, view the property, the rooms and even sample their buffet food.
Location, Location, Location
I've stayed in a number of 5-star properties in other Asian countries as part of my travels and I've noticed that these hotels are generally far outside of the city where there is a more space and are usually a lot quieter. The downside to these remote hotels is that you do feel sort of stuck at the hotel. We've been disappointed because we only had the expensive food at the hotel and wanted something cheaper.
Le Meridien Paro is situated approximately 3 kilometers south of the Paro airport which puts it 7 kilometers south of the town of Paro. Unless you want to take a taxi into the town during the evening (or arrange with your guide and driver if you really want to visit the town) you are likely to find yourself staying put at the hotel for the evening. The good news is that the hotel's buffet will be included in your package so you won't be handing over additional money (unless you are looking for a bottle of wine to enjoy with dinner) and you can just use the time to relax and enjoy the amenities at the property.
Staying far from Paro has its advantages. The town of Paro has a lot of stray dogs that tend to sleep all day but spend the entire night barking making it difficult to sleep.
I've stayed in a large number of Starwood properties in my travels and can say that at the time this was easily the nicest property of any Starwood that I've visited in terms of location. There is another Le Meridien in the capital city Thimphu. The hotel itself is very nice inside but once you leave the hotel you find yourself in a city. In Paro, when you step outside into the garden you will find it very peaceful compared to Thimphu.
Available Room Options
The hotel has 5 classes of rooms available:
Classic
Deluxe
Grande Deluxe
Corner Suite
Royal Suite.
The rooms range in size from 32 square meters for the class room to 72 square meters for the corner suite. The Royal Suite is a massive 140 square meters. Each of the rooms faces the south west so everybody has a view of the river. Obviously. guests staying higher up in the hotel will have a nicer view.
The Classic, Deluxe and Grand Deluxe rooms have the option of 2 twin size beds or 1 king size bed. The Deluxe and Grande Deluxe rooms do have a few options available for adjoining so if you need two rooms together you will need to pay a bit to upgrade from the Classic rooms. Complimentary Internet is provided to all guests.
The Classic and Deluxe are essentially the same with the Deluxe just a little bit bigger. The Grande Deluxe and Corner Suites are very large and impressive. The Royal Suite is still was under construction when I was there so unfortunately no photos were possible but with some luck, I will be able to visit the hotel again and collect the photos.
The Heat is On…
The one thing that might be a small problem for a couple of months during the year is that none of the rooms have air conditioning. I think that for most of the year, this will be no trouble but during June and July, there may be a few hot and humid nights that might be a bit uncomfortable. While I don't think that most hotels in Bhutan require A/C, I would expect that visitors paying a large premium to stay here would want to be able set the temperature in their rooms. I don't think this would be an issue at all from September to until May where you are more likely to want heat instead of A/C. The common areas of the hotel such as the conference rooms, the restaurants and fitness room all have A/C.
Other Serivces
The hotel has a small fitness room and a rather small heated indoor swimming pool that the guests can use. There is also a spa at the hotel. Guests can use the sauna and steam bath for free, but they would have to pay for other services such as massages.
Part of the hotel's mandate is to provide back to the community. They have adopted one small monastery nearby and two volunteers each week go to the monastery to teach English to the young monks.
WIFI
When I visited the property in 2016, the claim was that WIFI was free for people staying in Deluxe rooms and higher. I did get a tweet shortly after posting this article that the WIFI was being charged.
I have put in a request to the hotel and when I get an update I'll fix this review.
Starwood Guests
Yes, you will receive your Starwood points for staying at the property. If you are trying to redeem your points, you certainly can do this directly with the hotel but of course you will need a local agent to arrange the visa. If you do book the hotel directly let your operator know.
Stay for Free…almost nothing extra
You are thinking "Yeah…right!!"…but keep reading.
If you have done your reading about visiting Bhutan, you know that there is a minimum daily tariff of $250 per day per person with an additional $30 or $40 if you are in a small group. Officially, the minimum tariff requires that operators provide only 3-star accommodation. Upgrading to all 5-star properties for the entire trip is certainly going to incur some additional costs but adding just two nights might be surprisingly less expensive than you expect.
Usually when we arrange our tours, we move the guests to Paro on the second last night so that during the final day you can drive to Taktsang in the morning and hike to the monetary. Then back to the hotel in Paro for the night and you are just 10-15 minutes away from the airport for the flight out. If you are going to be in Paro for the final two nights, this makes Le Meridien Paro a great option to close off your trip.
If you are traveling during the high season months (March to May, September to November) meaning that you have paid the full $250 per day, we can often include the final two nights in a Classic Room in Le Meridien Paro at no extra cost even with the buffet dinner will included. If you want to upgrade to a nicer room like the Grand Deluxe or Corner Suite there would be an additional cost that we would need to calculate.
The Fine Print
You'll notice that I highlighted the word "often", unfortunately this means that our offer has a few restrictions on it that you need to be aware of.
The free offer applies to adults paying the standard $250 per day staying 2 people per room. If you have one child staying with you in your room, we can manage an extra bed without additional charges but if you have 2 children traveling on a discounted land package and require an extra room then there will need to be an extra charge.
If you are in a group with an odd number of people (1, 3, 5, 7, etc.) then the person staying in the single room will have to pay a supplement. During the low season months, staying in this hotel will likely require an additional charge.
If the Classic Rooms are sold out, which is often the case during the festival months, then we have no option but to charge an additional fee.
If you are interested in this free upgrade, just ask for it and we can let you know the price.
Now the bad news…
You didn't expect everything to be easy and simple, did you? It's not terrible news but it is money related.
Most of the 5-star properties require a non-refundable deposit in order to confirm the booking and this will need to be paid along with your airfare when you book the tour; the rest of the tour payment can be made within 30 days of travel. We will let you know the deposit amount when we send you the itinerary.
Upgrade Your Entire Trip
Although it will be more expensive, why not consider staying in 5-star properties for your entire trip? Most of the 5-star properties in Bhutan have incredible locations and very nice facilities.
We are able to offer very competitive rates on packages consisting only of 5-star hotels. When you contact us, just ask for the 3, 4, and 5-star hotel rates. We will pick our favorite 4 and 5 star hotels but if you have a specific hotel in mind, please let us now.